The Soling – Why Sail a Soling????
At just short of twenty-seven feet long and weighing over one ton, the Soling is a famous class of International One Design (IOD) racing yacht. It has a powerful fractional rig with a 31 foot mast. It has a self tacking jib of 8.1 square metres and a 15.6 square metre mainsail. The large spinnaker is nearly double their combined size at 45 square metres. 
And it is fast. It races with Portsmouth Yardstick (PY) of 914.
The Soling has been raced by many celebrated world class yachtsmen who have won the Americas Cup, The Admiral Cup and Around The World races including Russell Coutts, Ed Baird and Peter Gilmore.
The Soling is quite a technical boat to sail. Everything is easily adjustable while racing, this includes the fore-stay, back-stay and the tension on the inner/lower and outer/upper shrouds. The Soling has a long history of fleet racing and match racing.
If you want to take up yacht racing, then the Soling, with its impeccable pedigree is the ideal boat to do it with.
The British Soling Association is looking for experienced and talented sailors to join our fleets and to race Solings in National and International regattas. See the The Soling – Can You Win? page on this website and get in touch with the BSA secretary or the nearest Soling fleet to you!
The following article was written by Rob Morris a young 29er and 49er sailor after he had the opportunity to race a Soling  in the last European Championships with Roman Koch ……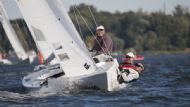 WHY SAIL A SOLING????  Artcile by Rob Morris/Photo courtesy of ISA / YCBG / Ralph Linow
There are more types of boat being sailed than ever before and many of the younger generations might wonder why I think a boat that celebrated its 50th anniversary last year, is definitely one they should be sailing.
I have, in my short time, been lucky enough to have the opportunity to sail quite a number of boats of all shapes and styles, from International 14´s to 40ft X-Yachts, but I only just got the chance to race a Soling. They have quite a reputation, an eight times Olympic class, three man keelboat that was designed by the very famous Jan Herman Linge, but coming from a background in skiff sailing I´ll admit I had reservations. A symmetrical spinnaker, a multitude of control lines and a completely new way of hiking all had me wondering what the hell I had got myself into. As it turns out, one of the best boats I´ve ever sailed.
The boat is balanced perfectly, turns on a sixpence and gives one of the greatest tactical experiences I can think of. Upwind she will point unbelievably high and go surprisingly fast, in even light winds, downwind the huge kite is quite a handful and, being quite light, she´ll surf waves with remarkable ease. The boat is highly physical, the kite, hiking and mast control all require a lot of effort. After just a weekend you´ll be feeling the burn.
The most useful part though, for a younger sailor, is being able to hone your tactics. I have served my time in both 29er´s and 49er´s and there, upwind tactics are not so much about wind shifts, as much as they are about making the boat go as fast as possible and aggressive mark roundings. More traditional tactics, therefore, tend to get overlooked a little. In a Soling you have the time to think about what you are doing and its ability to tack with very little loss in speed, means playing the wind shifts is completely viable. Pointing so high means that the crew must be constantly checking the rest of the fleet for unseen shifts, because the right shift in the right place can move you from last to first very quickly, or the other way around, if one is not careful. Little manoeuvres like lee bowing and port tack approaches can be perfected and will leave you severely frustrated or highly satisfied depending which end of them you are on. All of this combines to make the Soling a fantastic boat for developing tacticians.
Downwind tactics, whilst not so busy as in asymmetrics, are very important as well. They revolve mostly around gusts and surfing. Because the boat is so light, it´s acceleration is closer to a dinghy than a big keelboat or even many of its counterparts, so a small gust can give you that little boost of speed you need to overtake. Most competitions have a gate leeward mark, so setting up for room is, as always, very important and can be pretty stressful. The symmetrical spinnaker can seem a little daunting to many new sailors, as it is big. Really big. I´m told that, in heavy winds, the boat can be pretty scary, stories of Chinese gybes, broaches and bowmen lost overboard had me pretty excited. Rest assured that this boat has teeth.The final and most important point I will make, is about the people who sail Solings. It is true that some of the sailors have been sailing the boat for nearly twice as long as I´ve been alive, but don´t let their age fool you. Some of the most talented people in the sailing world can be found here. Olympic gold medallists , world champions, America´s cup champions, you name the event, they´ve won it. If you want to sail against and learn from the best, they are here. On top of this, everyone is really welcoming and advice is given freely to all. The sailing is serious but that doesn´t stop anyone from enjoying all the beer they can manage and encouraging you to do the same. The sailors and class in general, are both approachable and accommodating and will do everything they can do to help any new sailors.
Though the fleet is small in my native UK, there is a strong presence in many countries across the globe, Germany, Argentina, Canada and the US to name but a few. So if you are looking for something other than a dinghy to sail, something to improve your tactical abilities, to meet some amazing people, to broaden your sailing repertoire or just for a boat to have a lot of fun in, I urge you, check out a Soling, it might just be what you´re looking for.