Boats, sails and gear for sale on this page are provided for information only. If you are looking to purchase anything, please contact the owner directly. BSA cannot verify any details shown.
THERE ARE CURRENTLY TWO EXCELLENT SOLINGS UP FOR SALE IN THE UK!!!!!!
___________________________________________________________________
FOR SALE: SOLING – GBR 169    "RUNNING BEAR" 
Probably the best Soling in the UK today and winner of the Soling UK National Championships 2015
Lovingly maintained and in beautiful condition
Maker: Abbott (Ontario, Canada)
Plug: 9   Mould: 10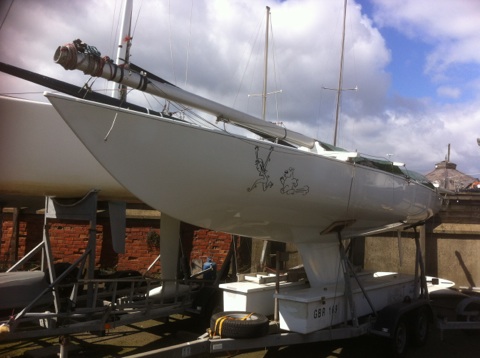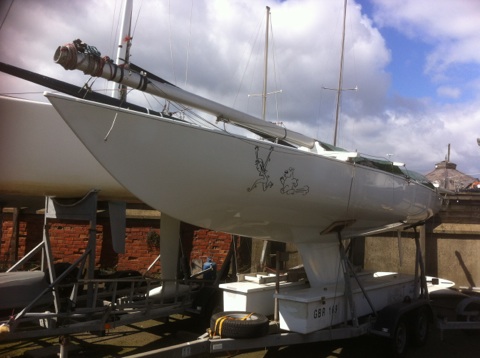 Sails & Equipment
– 1 set new sails 2015 bought for 2015 nationals used only twice since the winning event
– includes 1 x North AP2 main and 1 x North V1 jib
– new North monster spinnaker used for above
– assortment of other sails
– spare mast
– predominantly Harken fittings
– 4 x self bailers
– 2 x framed retracting spinnaker bags
– 4 s/steel lifting strops
– spinnaker pole
– 2 sets hiking harnesses and hobbles 1 helmsman harness
– 1 anchor
– professionally polished for the 2015 event
– plus one big green rope
Trailer & Covers
– with 1 x 4 wheel road trailer fully lit , new tyres with 2 full length sail lockers, bearings replaced June 2015
– plus spare wheel included, has twin mast mounts, tie down strops and trailer board
– complete body and deck cover
– cockpit cover for afloat or ashore
– Rudder sock
Additional Information
A very quick boat well set up for ease of adjustment whilst racing
adjustable inner and outer shrouds
easy backstay tension to play the gusts
fast fore and aft mast adjustment(big green rope)
PRICE: only £8000
CONTACT:  Tony Freeth 0191-2529591
__________________________________________________________________
FOR SALE: SOLING – GBR 156    "SO LONG" 
Lovingly maintained, in beautiful condition and ready to race.
Maker: Abbott (Ontario, Canada)
Mould: 9, Plug: 10.    HIN 849
Sails & Equipment
I Doyle Mainsail, 2 Doyle V1 jibs, 2 Doyle A1 jibs, 2 other jibs, I Sobstad spinnaker, 1 Pinnell & Bax spinnaker .
1 mast (silver).1 boom with spares. I spinner pole with spares.
Double self balers
Harken blocks and deck fittings,
2 hiking vests, 1 pair hobble straps,
Trailer & Covers
Cradle Ride 2 wheel trailer with spare wheel  (all tyres are legal ) and  double boxes
Cover
Additional Information
At Fort William
Price – £6,000 ono
Contact: Duncan Macphee 07595217634 or email duncanmacphee@macphee.co.uk